The Plug-N-Play™ system allows a user to quickly connect and disconnect the hose from the reservoir. This allows a user to easily remove the reservoir from the backpack, which is very handy, especially when filling the reservoir with water.
The system requires a little bit of care to keep your adventure going. To keep the Plug N Play working smoothly, the o-ring attached to the hose fitting must be periodically lubricated with an approved lubricant.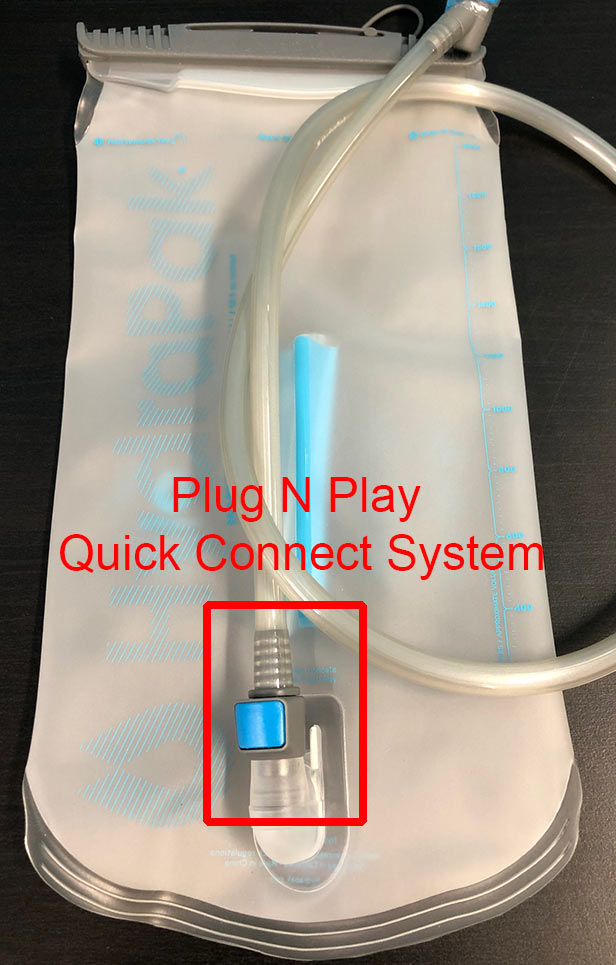 Hydrapak Plug N Play: Terms Explained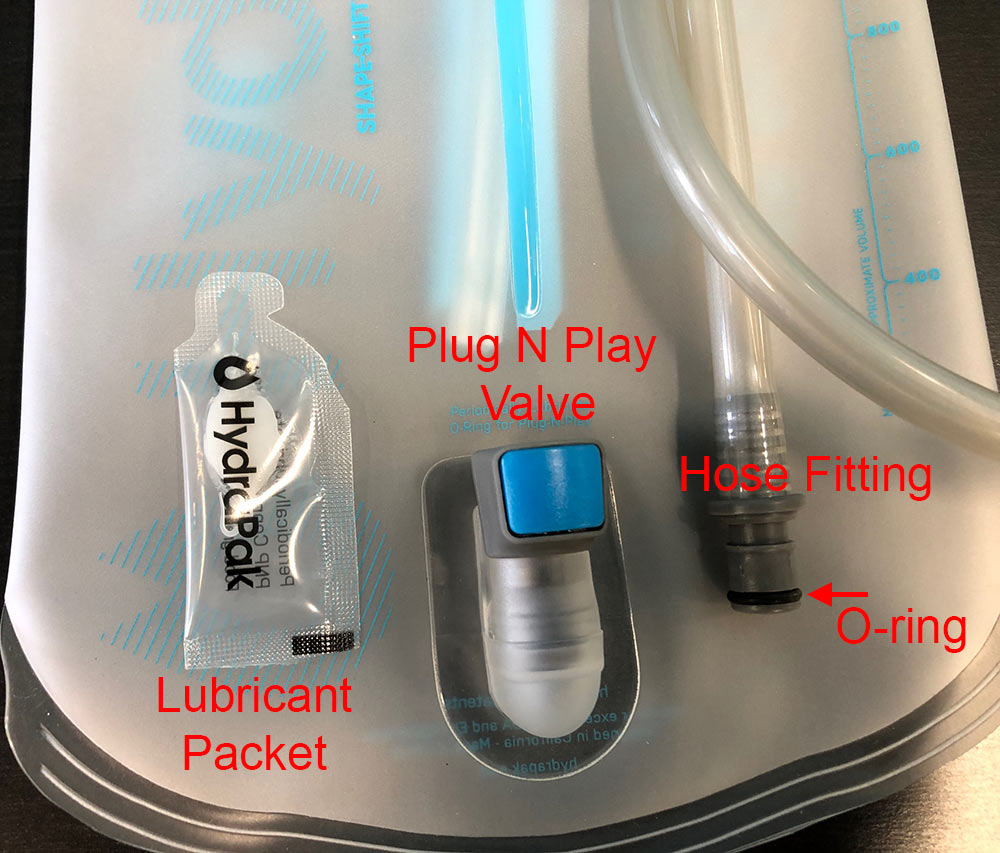 All of our reservoirs that are sold at a retail store include a lubrication packet. However, if your reservoir was purchased as part of a backpack, a lubrication packet was not included. Luckily, the approved lubricants can normally be sourced from your local pharmacy or hardware store. Please see below for the list of approved lubricants.
How to Apply the Lubricant
Apply a small dot of lubricant on the o-ring. You only need enough to lightly coat the o-ring. Too much lubricant can have a counter-productive effect, so go lightly with the application.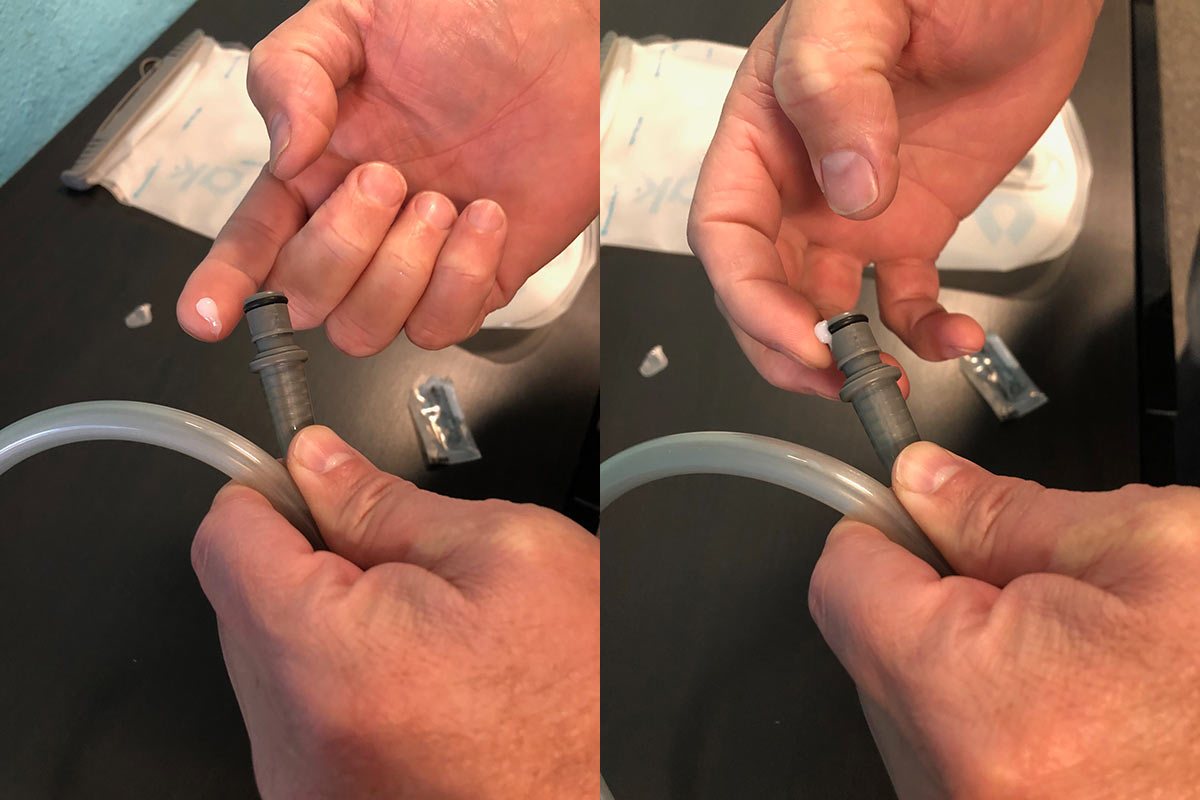 Now you can simply plug your hose into the valve and enjoy the convenience of being able to quickly connect and disconnect the hose.
How Often Should The O-ring Be Lubricated?
Luckily, the system does not need to be lubricated very often. The lubricant can last many months. The small packet that we provide is enough for several applications. Store it in a cool dark place and have it handy if you need to administer another application.
Which Lubricants are Recommended?
If your reservoir did not come with a lubricant packet or if you wish to purchase more, we recommend the following three types of lubricant: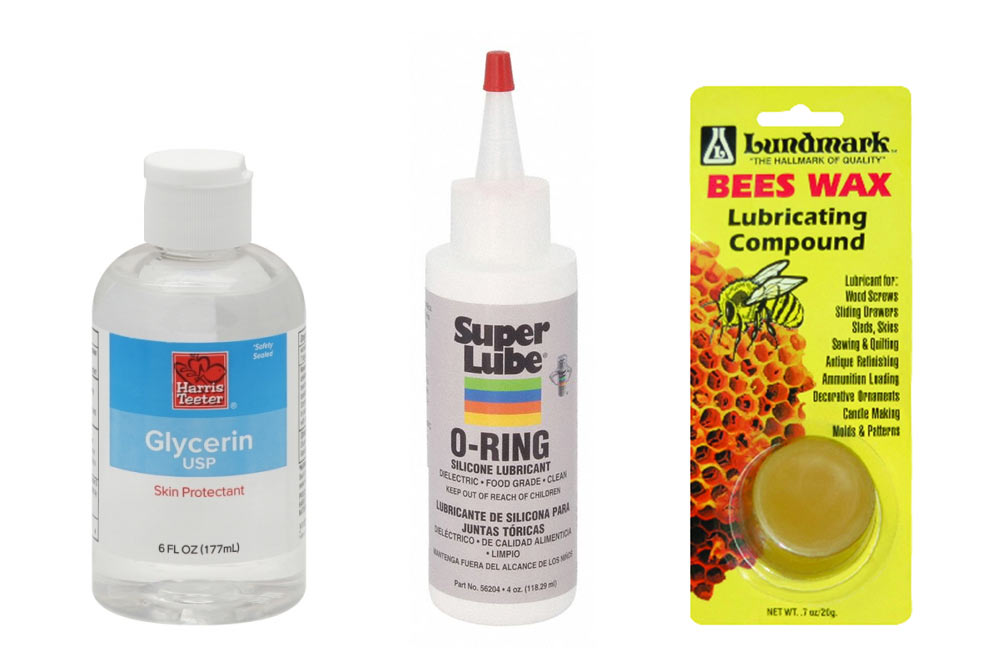 Glycerin - Glycerin can be found at most pharmacies and it is very economical. A 6 oz. bottle can be purchased for $3.50.
Silicone Lubricant (Food Safe) - Silicone is perhaps the best type of lubricant, although it is important to verify that the product is "Food Grade" as there are a large varieties of types of silicone lubricant on the market. This one can be purchased at hardware stores. Cost for a 4 oz. bottle is $10.00.
Bees Wax makes a great, all-natural lubricant although it is may be more difficult to find and apply to the o-ring. These are typically sold at hardware or craft stores. The 0.7 oz. portion is $5.00.
What About Other Types of Oils?
We strongly recommend against using any type of cooking oils including olive oil, corn oil, coconut oil, etc. Our experience has taught us that the use of these types of natural oils will cause the o-ring to swell. They also get can get sticky. The result is that the hose will become difficult to engage or disengage and it may cause damage the o-ring or fitting.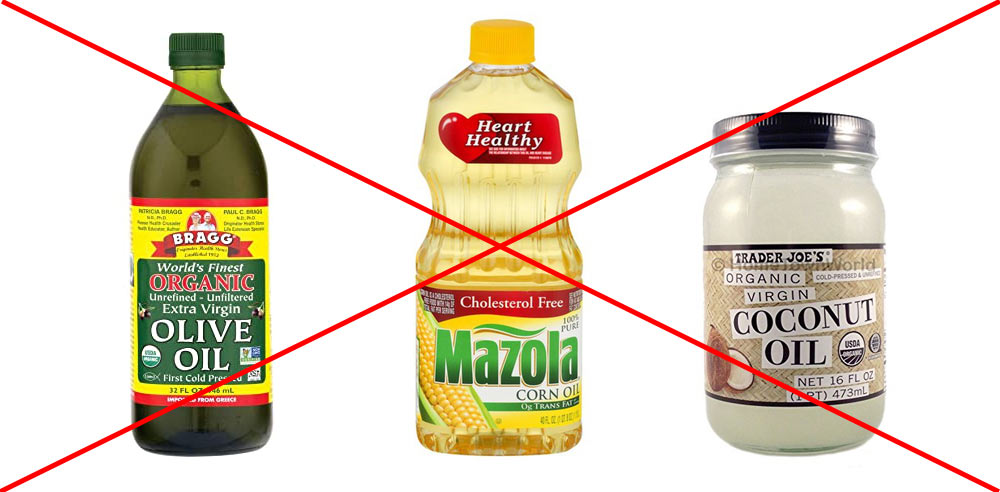 What if the O-Ring becomes Damaged?
If the o-ring is properly lubricated, it will provide many years of faithful service. If the o-ring becomes warped or damaged, it will not allow the system to function correctly and the o-ring must be replaced. Your options are to purchase one of the following: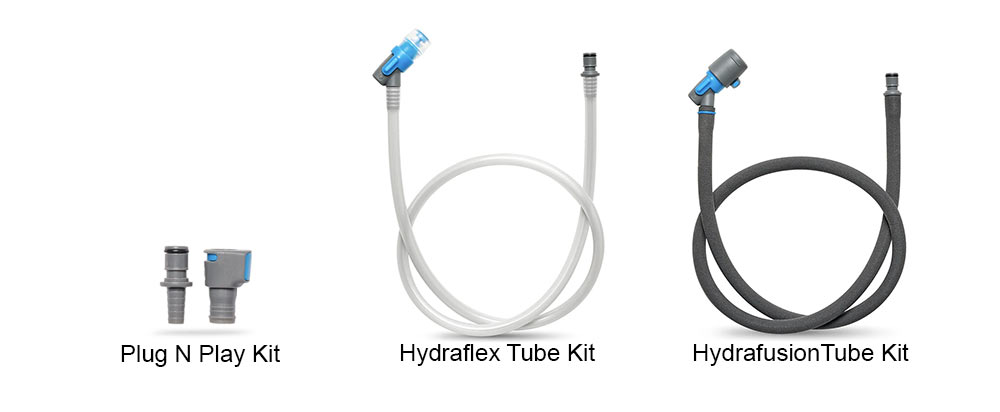 Plug N Play Kit - This kit is sold primarily as an upgrade kit to reservoirs that are lacking the Plug N Play connection. However, you can also use the o-ring or the hose fitting to repair a damaged o-ring. We do not recommend replacing the valve, however, as it is very difficult to remove and almost never necessary because failures are normally due to an o-ring problem. This kit is only sold through HydraPak.com and the cost is $6.00.
Hydraflex Tube Kit - This is the standard Plug N Play tube that comes with most of our reservoirs. This replacement option will fix an o-ring problem plus it gives you a new bite valve, which is a wear and tear part. This kit is available though most of our retailers and the cost is $12.00.
Hydrafusion Tube Kit - This is our premium insulated Plug N Play tube and it comes with a new bite valve with a dust cover. The insulation keeps the water temperature cooler in summer and will help prevent water from freezing in the winter. Available though our retailers, the cost is $15.00, and well worth the extra cost compared to the Hydraflex tube kit.
Warranty
If you feel the o-ring wore out prematurely, or if your hose fitting cracks or chips, you may file a warranty claim though our web site. We will be happy to provide you with a replacement.